ROCLA Winter 2022-2023 Newsletter
Join or Renew Your Membership and Help ROCLA Thrive!
Dear friends,
As we begin 2023, we send a huge THANK YOU to you, our members and friends. Your support and attendance have helped the Rochester Committee on Latin America (ROCLA) continue our varied special programs on Latin American countries' current issues throughout 2022. ROCLA has also joined with the Latin America Solidarity Committee (LASC) of Buffalo to co-sponsor our monthly programs and reach out to new presenters.
Our presenters are Latin Americans with intimate knowledge about their countries' issues, solidarity activists working on the ground to fight for justice in their adopted countries, and Latinx artists and activists working in diaspora communities in the US. Our wonderful web manager, newsletter designer and social media director, Maryann Stopha Reissig, continues to create new ways for ROCLA to reach out to Latin Americans and others from far and near, and meet the challenges of communicating with new constituencies.
2022 has been a year of both accomplishments and growth for ROCLA:
We welcomed Wesley Costa de Moraes, a native of Brazil and professor at SUNY Geneseo, to ROCLA's committed all-volunteer Steering Committee.
We have gained new members through ROCLA's Zoom audiences and enhanced social media.
We have increased our outreach to ROCLA members to encourage your  advocacy regarding key issues affecting justice and democracy in Latin America.
ROCLA members and friends contributed $2,661 to the Pastors for Peace Friendshipment to provide material support to Cuba and fight the continuing US embargo.
ROCLA continues to support the annual Rochester Labor Film Festival.
ROCLA's quarterly Update on the Americas newsletter contains many articles about important current events and issues in Latin America.
ROCLA connects with many different groups and individuals in the US, Latin America and the Caribbean that help us keep abreast of Latin American events.
And, finally, after 3 years, ROCLA will welcome you to our Rice & Beans 50th Anniversary Celebration on June 23, 2023! We will honor Dan Kovalik, author of several books and articles critical of US policy in Latin America, with the International White Dove Award. More details and updates will follow in our Spring Newsletter.
Please help ROCLA continue to grow by renewing your membership, becoming a new member, or signing up as a Monthly Sustaining Member below!
Suggested donations: Student: $30; Member: $50; Patron: $75.
Thank you to ROCLA's members and friends for your faithful support!
Become a ROCLA Member
Please consider giving generously to ROCLA so we can ensure a future that allows us to inform and support the efforts of those in Latin America and the Caribbean.
Donate below or send your tax-deductible check made out to MJ/ROCLA to: Kathy Goforth, 45 Lynbrook Drive, Rochester, NY 14609.
become a ROCLA monthly sustainer
Becoming a ROCLA Monthly Sustainer provides reliable support for our monthly programs and events. As a Sustainer, your donation will renew and your credit or debit card will automatically be billed.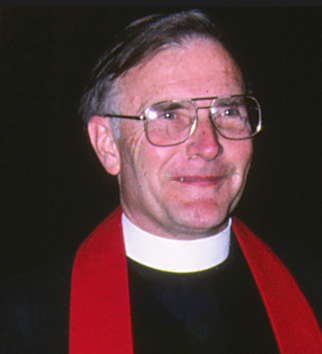 A Tribute to Bob Kaiser
Bob Kaiser was a man who lived in two worlds while he was here on earth with us: He walked in the spiritual world as well as the physical world.  Bob served as a pastor for many years, and I was blessed to have known him for many of those years as the pastor of the church I attend, Gates Presbyterian Church (GPC).  I went on many Youth Work Projects with the Senior High students, and Bob was our fearless, unflappable leader.  Bob had a few gray hairs and I was a contributing factor to that!  Lots of great memories were created through those trips.
Bob always found the time to call or write to all the people he cared about as a shepherd tending to his flock. I will miss his calls that came out of the blue and always opened with: "Hi, Tom. How are you and your family doing?" My visits with him after his "retirement" at the Leaf N Bean Coffee House are moments I will always cherish. He was a phenomenal communicator and leader.
Bob didn't rest in his "retirement" very long as he filled in preaching at churches all over Monroe County and beyond and serving on Presbytery of Genesee Valley committees.
Bob, along with his wife Marilyn, served as the convener of ROCLA for many years.  Often he would say he needed someone to take over and he was going to step down, but he never did, until he needed to spend more time caring for his beloved Marilyn when she became ill. His quiet manner, his thoughtful responses, his advocacy for human rights, his focus on peace and mission – all of which made him the perfect convener for ROCLA because of his love of Latin America. When Bob had a sabbatical leave from GPC, he and Marilyn rode the public buses from Mexico through Central America! Bob also led the congregation on two mission trips to Mexico and in 1996 led the first delegation to Paxcux and Rio Negro, Guatemala. Now known as The Guatemala Partners, the mission continues to this day – 27 years later!!
So, in keeping with a Central American tradition that Bob loved, I will call out the name: "Bob Kaiser" and the people will respond: "PRESENTE!!" Thank you, Bob, for all the love and compassion you gave to the peoples of the world and to your ministry.  We shall not forget you!!
PS – Bob never met a Dairy Queen that he didn't like!!!
Tom Ward
ROCLA Convener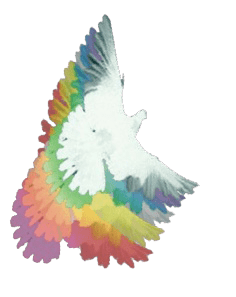 Rocla's 50th Anniversary Rice & Beans Celebration!
ROCLA will hold its 50th Anniversary Rice & Beans Celebration on June 23, 2023, at 5 PM, at the Roundhouse Lodge in Genesee Valley Park.
We will honor Dan Kovalik with the International White Dove Award. He is a human rights lawyer, internationally-known author of many articles and several books on US policy in Latin America, and producer of a recent documentary on Nicaragua. Dan is known for his well-researched critiques of US foreign policy and we were fortunate to engage him for ROCLA's September 2022 program. Richard Rosen, a member of ROCLA's Steering Committee and long-time advocate against US intervention in Latin America, will receive the Local White Dove Award.
To add to the festivities, we are planning to invite our past White Dove Award winners and local students studying Latin American history and politics. We are still working out a menu suitable for the Genesee Valley Park location, but we can assure you it will be delicious! We're also planning a special dessert to celebrate our 50 years of education and action for justice and peace in Latin America and the Caribbean! Entertainment by the Trinidad/Tobago Steel Drum Band and Alma de Mexico, a folkloric dance group will make the 2023 Rice & Beans Dinner and 50th Anniversary a very lively event.
The Steering Committee is still in planning mode, so we welcome your ideas – for entertainment, decorations, music, menu, etc. – to celebrate the 2023 Rice & Beans dinner and ROCLA's 50th Anniversary!
Share your suggestions at: rtward73@outlook.com. We are also seeking volunteers to help decorate and set up on June 23, and clean up afterward. To volunteer, contact Kathy Goforth at: kathy.goforth@rochester.rr.com
Take Action: US Hands off Peru!
Background
From the Observatorio de Derechos Humanos de los Pueblos:
We strongly reject the racist and classist coup orchestrated by the Peruvian oligarchy on Wednesday, December 7, 2022, against President Pedro Castillo Terrones, who was legitimately elected by the Peruvian people as President of the Republic on July 20, 2021.
We denounce that there has been a strategic alliance between the US, the ultra-right and the Peruvian right wing to sabotage, undermine and remove President Pedro Castillo, in which the Congress of the Republic, the Public Ministry, the Judiciary and above all the hegemonic media have had as allies the constitutional court, the Ombudsman's Office and the Catholic Church hierarchy itself. All of them have jointly exerted strong pressure, with – – – – serious defamations – – – – we are facing a lawfare. Thus, they endorse and give way to the imposition of Vice President Dina Boluarte (a puppet of Fujimorismo), who is appointed president of Peru by the Congress of the Republic.
At the same time, we are deeply concerned that this illegally imposed regime [of Dina Boluarte] is brutally repressing all citizens and all sectors participating in the massive popular mobilizations, unrestrictedly demanding the immediate release of President Pedro Castillo Terrones.
---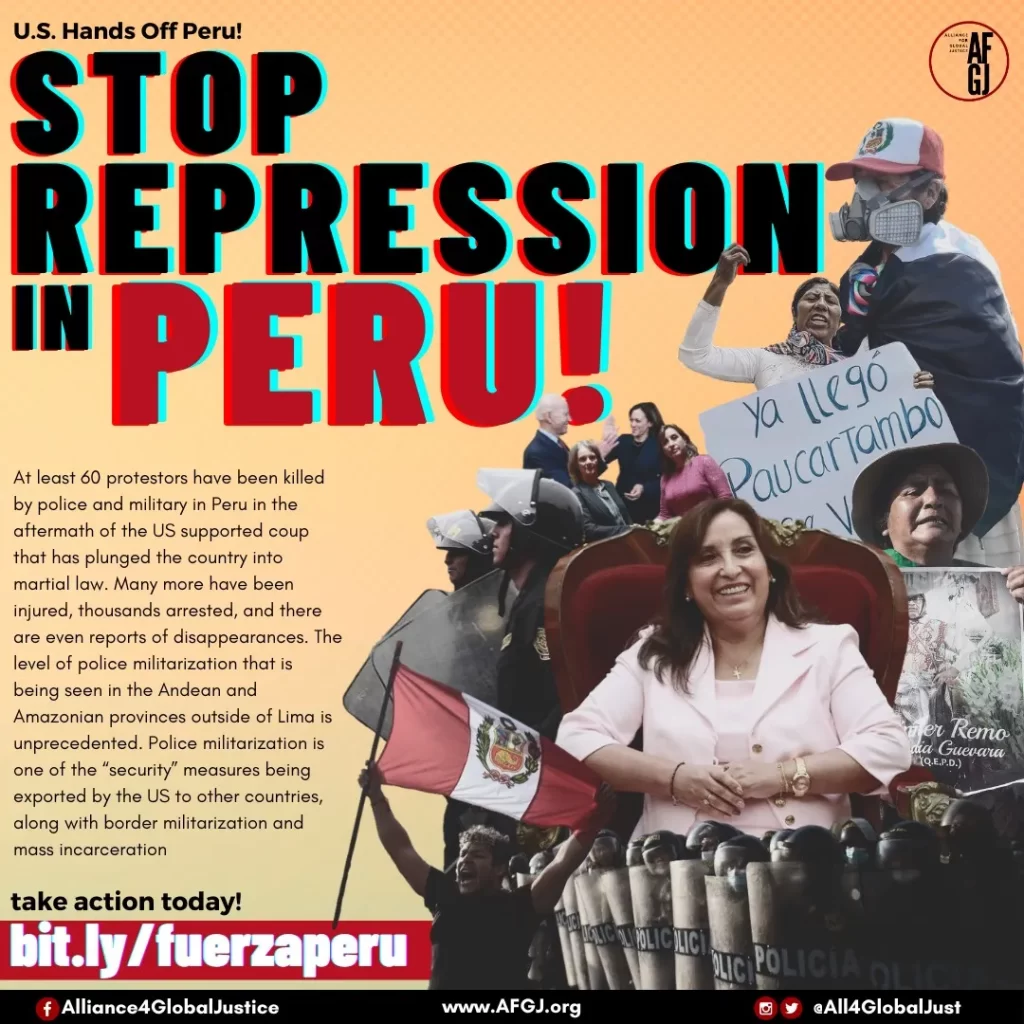 At least 60 protestors have been killed by police and military in Peru in the aftermath of the US supported coup that has plunged the country into martial law. Many more have been injured, thousands arrested, and there are even reports of forced disappearances. The Alliance for Global Justice' Eduardo Garcia spoke with people on the ground in Lima:  "Last night after our call I had a conv[ersation] with a couple of comrades that participated in the National March and they said it was a feast for the police. They mentioned it took them over seven hours to get back home while they waited for police to stop chasing demonstrators, and saw many injured on their way. They have also heard of a few cases of what could be forced disappearances-according to what they said, there's been testimonies of cars picking up demonstrators."
We also spoke with George Ygarza, a Peruvian-US-er, solidarity activist, and candidate for a PhD, who is studying issues relating to mining and resistance in Peru. He told us that the level of police militarization that is being seen in the Andean and Amazonian provinces outside of Lima is unprecedented. Police militarization is one of the "security" measures being exported by the US to other countries, along with border militarization and mass incarceration.
We need to take urgent action now to show our solidarity with Peruvian workers and with indigenous and farming communities to stop the repression and to change the US policies that are behind it.
Catherine Nolin and Grahame Russell, eds.
"Testimonio: Canadian Mining in the Aftermath of Genocides in Guatemala," Between the Lines (2021)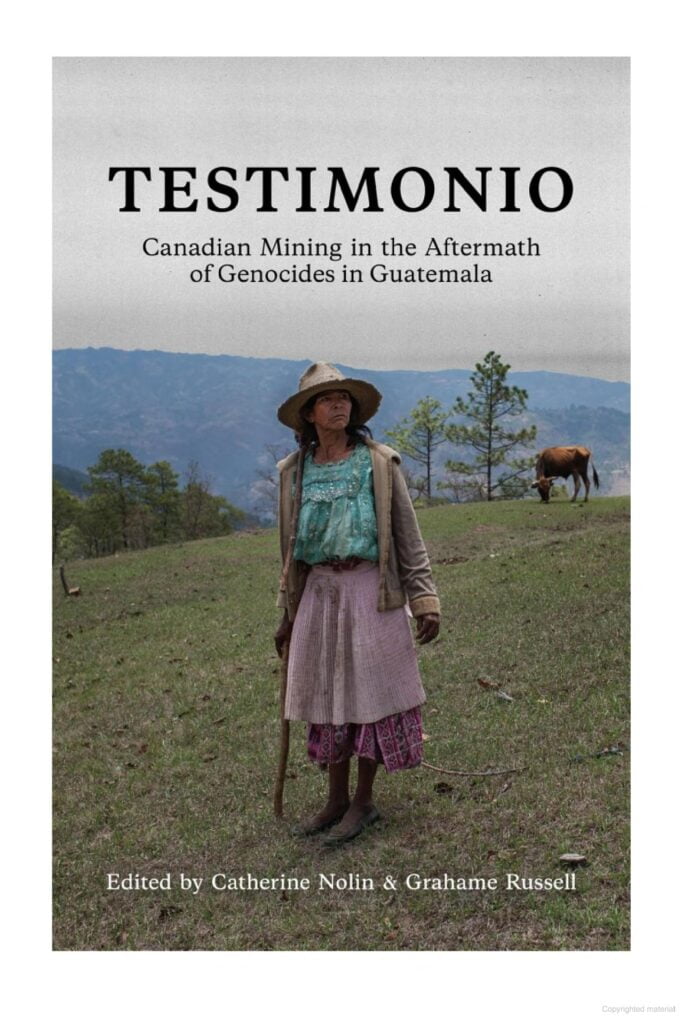 "Testimonio" weaves together the articles and testimonies that tell the stories of horrible crimes committed against Guatemala's Indigenous majority living predominantly in rural areas by Guatemala's powerful and corrupted economic, political and military elites. With the support of the United States, and in conjunction with the economic interests of Canadian mining companies, the World Bank and the Inter-American Development Bank, these institutions and the mining companies that benefited from the repression placed profits before the well being of Guatemala's Indigenous communities, the very places where coveted mineral and other resources are. These elites and their international partners contributed to, participated in, and/or benefitted from the repression 'needed' to get access to the resources.
Daniel Kovalik, Nicaragua: A History of US Intervention and Resistance, Clarity Press (2022)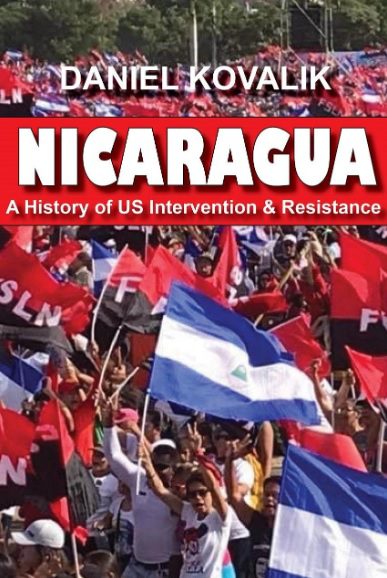 This important book explores the pernicious nature of US engagement with Nicaragua from the mid-19th century to the present in pursuit of control and domination rather than in defense of democracy as it has incessantly claimed. In turn, Nicaraguans have valiantly defended their homeland, preventing the US from ever maintaining its control for long. Nonetheless, destructive US interventions, including its continuing support of generations of Somoza dictators, the10-year CIA-led Contra War in the 1980s, and the neoliberal leaders of the 90s that left Nicaragua continually impoverished and underdeveloped.  Kovalik describes the US's current anti-democratic policies against Niacagua, including worsening destructive sanctions designed to overthrow the Sandinista government.
In this section we publish personal narratives, opinions, or creative work of Latin Americans or from members of the Latinx diaspora. We prefer that these articles be from directly affected people working for justice in Latin America or Latinx people fighting for change in the US, such as for immigrant rights. However, articles from those working in solidarity with directly affected organizations and individuals in the US and Latin America will also be considered. Articles can be in English or Spanish. Contact our Newsletter Editor if you or someone you know would like to submit an article or other work: graniamarcus@rocla.org. Thank you! 
Todd Miller, Inside Mexico's Largest Detention Center: A Q and A with Belén Fernández, CounterPunch, January 27, 2023.
In 2012, former Customs and Border Protection official Alan Bersin proclaimed that "our southern border" is now with Guatemala. In her great new book, titled Inside Siglo XXI: Locked Up in Mexico's Largest Detention Center, author and journalist Belén Fernández writes about this underdiscussed part of the U.S. border from the on-the-ground perspective of the Tapachula immigration prison, where she was detained. In the book, and in the interview, Belén describes how she ended up behind bars and what she witnessed and experienced, including the friendships and solidarity she had with other detainees.
In this section, ROCLA's newsletter editor has chosen timely and important articles highlighting political, economic and justice stories about various Latin American countries. We select a wide range of current news for you to learn more about the important events in Latin America and the Caribbean, but we undoubtedly didn't locate some too. We also welcome our readers' suggestions for articles and research we may have missed. Please send your suggestions with links to the content if it is online, to graniamarcus@rocla.org.
Immigration / Migration Issues
Is Encouraging Unauthorized Immigration Free Speech or a Felony? The New York Times, January 9, 2023
When the Supreme Court hears arguments this spring on the constitutionality of a curious law that makes it a crime to "encourage" unauthorized immigrants to come to or stay in the United States, the justices may have a sense of déjà vu.
Continue to full article at The New York Times 
Ryan Devereaux, How Neighbors in the Borderlands Fought Back against Arizona Gov. Doug Ducey's Wall – and Won, The Intercept, December 14, 2022.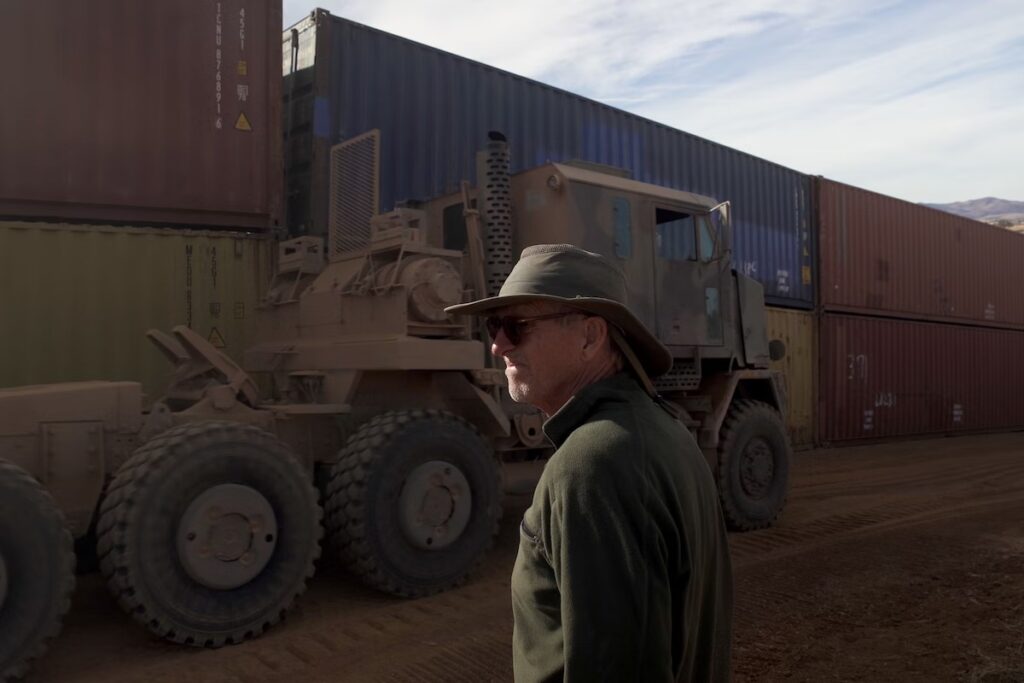 The Browns live 10 miles north of the U.S.-Mexico border, on the southeastern edge of Sierra Vista, in Cochise County, Arizona. Like many of their neighbors at the foot of the rugged Huachuca Mountains, the Browns's worry was javelinas, tenacious borderland omnivores often mistaken for wild pigs. Their dogs had been attacked. Their garden was in peril. Javelina damage keeps the Browns up at night. A purported wave of migrants laying siege to their community does not.
Continue to full article at The Intercept 
Michael Slager, Title 42, "Safe" Third Countries and Bipartisan Hypocrisy, CounterPunch, January 10, 2023.
President Biden recently announced changes to US immigration rules that will effectively embed two Trump-era policies, one of which the Supreme Court's conservative majority has temporarily refused to halt: Title 42. It is a measure ostensibly intended to curtail the spread of COVID-19 by expelling or refusing entry to migrants from Central America. The other is the so-called "safe third country" policy, which requires migrants to apply for asylum in a country through which they transit on their way to the southern border. They must show that the request was denied before attempting to make an asylum claim in the United States.
Continue to full article at CounterPunch 
Letter: Vote 'No' on the "Border Safety and Security Act," Government Accountability Project, January 12, 2023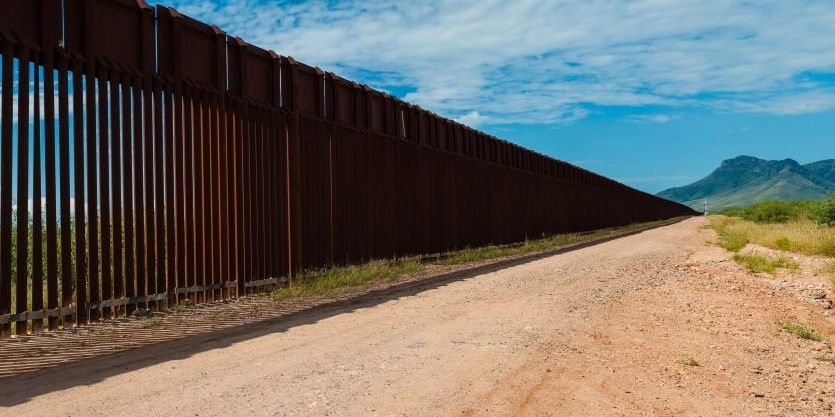 With the new year comes new opportunities for the U.S. government to establish a humane and orderly immigration policy that respects human rights. The newly elected majority in the House of Representatives, however, is moving in the opposite direction, rolling out an intentionally divisive legislative agenda that panders to hate and anti-immigrant animus rather than actual policy solutions. Among the first bills expected to go to the House floor is the "Border Safety and Security Act," which would, as a practical matter, shut our border to all asylum seekers, no matter how strong their cases might be.
Patrick Greenfield, Revealed: more than 90% of rainforest carbon offsets by biggest provider are worthless, analysis shows, The Guardian, January 18, 2023.
The forest carbon offsets approved by the world's leading certifier and used by Disney, Shell, Gucci and other big corporations are largely worthless and could make global heating worse, according to a new investigation.
ROCLA MISSION STATEMEMT
Founded in 1973, the Rochester Committee on Latin America (ROCLA) seeks to build bridges between the Rochester, New York community and the people of Latin America. Through its speakers, films, newsletters, and urgent actions, ROCLA educates residents about the culture, economics and politics of the countries of Central and South America, Mexico and the Caribbean, and the ways U.S. policies impact the lives of their people. ROCLA also supports directly affected groups and solidarity organizations that are fighting for justice and human rights in the global south and the United States. ROCLA encourages its members and the Rochester community to advocate for U.S. policies that support human rights and reverse the often-oppressive history of U.S. involvement in Latin America. ROCLA stands with Latin American diaspora communities and ally organizations in the United States in advocating for farmworker rights, a fair and humane immigration system, and racial justice.
Steering Committee: Marilyn Anderson, Kathy Goforth, Grania Marcus, Arnie Matlin, Richard Rosen, Vic Vinkey, Tom Ward, Wesley Costa de Moraes. Emeritus: Gail Mott
Website: Maryann Reissig; Editor: Grania Marcus