ROCLA Fall 2022 Newsletter
Join or Renew Your Membership and Help ROCLA Thrive!
Dear friends,
As we near the end of 2022, we send a huge THANK YOU to our members and friends for supporting the Rochester Committee on Latin America (ROCLA) and attending our varied special programs on Latin American countries' current issues throughout the year. During this, our 49th year, ROCLA has joined with the Latin America Solidarity Committee (LASC) of Buffalo to co-sponsor our monthly programs – Latin Americans with intimate knowledge about their countries' issues, solidarity activists working on the ground to fight for justice in their adopted countries, and Latinx artists and activists working in diaspora communities in the US. ROCLA's Steering Committee, especially our wonderful webmaster, newsletter designer and social media director Maryann Stopha Reissig, continues to create new ways for ROCLA to meet the challenges of the pandemic's limits to in-person events.
2022 has been a year of both accomplishments and growth for ROCLA:
We welcomed

Wesley Costa de Moraes

, a native of Brazil and professor at SUNY Geneseo, who has joined ROCLA's committed all-volunteer Steering Committee, led by Convener Tom Ward.

We have gained

new members

through ROCLA's Zoom audiences and enhanced social media presence.

We have increased our

outreach to ROCLA members

to ask you to advocate regarding key issues affecting justice and democracy in Latin America.

ROCLA

members and friends contributed $2,661 to the Pastors for Peace Friendshipment mission

to provide material support to Cuba and fight the continuing US embargo of Cuba.

ROCLA continues to

support the annual Rochester Labor Film Festival.

Our newsletter editor brings you

ROCLA's quarterly newsletter

containing wide-ranging research and articles about important current events and issues happening in Latin America.

ROCLA connects with many different groups and individuals

in the US, Latin America and the Caribbean that help us keep abreast of Latin American events.

And, finally, after 3 years,

ROCLA will welcome you to our Rice & Beans 50th Anniversary Celebration on June 23, 2023! (See details below)

More updates will follow in our Winter Newsletter,

including ticket information and additional ways we can all celebrate!
Please help ROCLA continue to grow by renewing your membership, becoming a new member, or signing up as a Monthly Sustaining Member! 
Suggested donations: Student: $30; Member: $50; Patron: $75.
Thank you to ROCLA's members and friends for your faithful support!
Become a ROCLA Member
Please consider giving generously to ROCLA so we can ensure a future that allows us to inform and support the efforts of those in Latin America and the Caribbean.
Donate below or send your tax-deductible check made out to MJ/ROCLA to: Kathy Goforth, 45 Lynbrook Drive, Rochester, NY 14609.
become a ROCLA monthly sustainer
Becoming a ROCLA Monthly Sustainer provides reliable support for our monthly programs and events. As a Sustainer, your donation will renew and your credit or debit card will automatically be billed.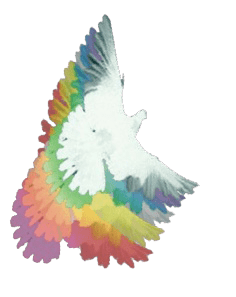 Rocla's 50th Anniversary Rice & Beans Celebration!
ROCLA is planning a special Rice & Beans Celebration for our 50th Anniversary! We will hold it on June 23, 2023, at 5 PM, at the Roundhouse Lodge in Genesee Valley Park.
We will honor Dan Kovalik with the International White Dove Award. He is a human rights lawyer, internationally-known author of many articles and several books on US policy in Latin America, and producer of a recent documentary on Nicaragua. Dan is well-known for his detailed critiques of US foreign policy and recently presented ROCLA's September 2022 program.
To add to our 50th Anniversary celebration, we are planning to invite our past White Dove Award winners and, of course, offer the usual delicious dinner and array of homemade desserts.
Entertainment by the Trinidad / Tobago Steel Drum Band will make this Rice & Beans Celebration a very festive event. The Steering Committee is still in planning mode, so we welcome your ideas about celebrating the 2023 Rice & Beans dinner and 50th Anniversary! Share your suggestions at: rtward73@outlook.com.
Urgent Action: No Foreign Intervention in Haiti!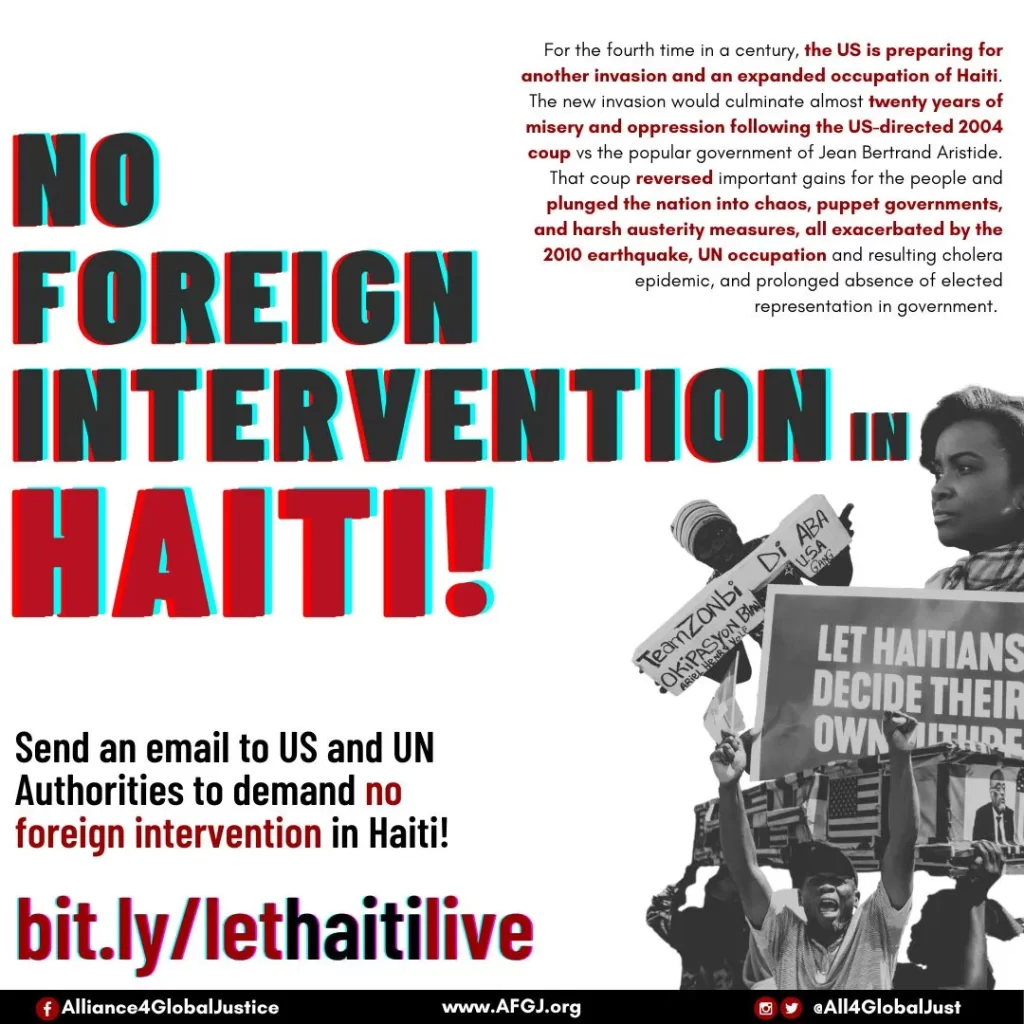 For the fourth time in a century, the US is preparing for another invasion and an expanded occupation of Haiti. The new invasion would culminate almost twenty years of misery and oppression following the US-directed 2004 coup against the popular government of Jean Bertrand Aristide. That coup reversed important gains for the people and plunged the nation into chaos, puppet governments, and harsh austerity measures, all exacerbated by the 2010 earthquake, UN occupation and resulting cholera epidemic, and prolonged absence of elected representation in government.
Please send an email to the White House, Congress, and the UN to demand NO US/UN/FOREIGN invasion and new occupation of Haiti.
In this section we publish personal narratives, opinions, or creative work of Latin Americans or from members of the Latinx diaspora. We prefer that these articles be from directly affected people working for justice in Latin America or Latinx people fighting for change in the US, such as for immigrant rights. However, articles from those working in solidarity with directly affected organizations and individuals in the US and Latin America will also be considered. Articles can be in English or Spanish. Contact our Newsletter Editor if you or someone you know would like to submit an article or other work: graniamarcus@rocla.org. Thank you! 
Catherine Nolin and Grahame Russell, eds.
"Testimonio: Canadian Mining in the Aftermath of Genocides in Guatemala," Between the Lines (2021)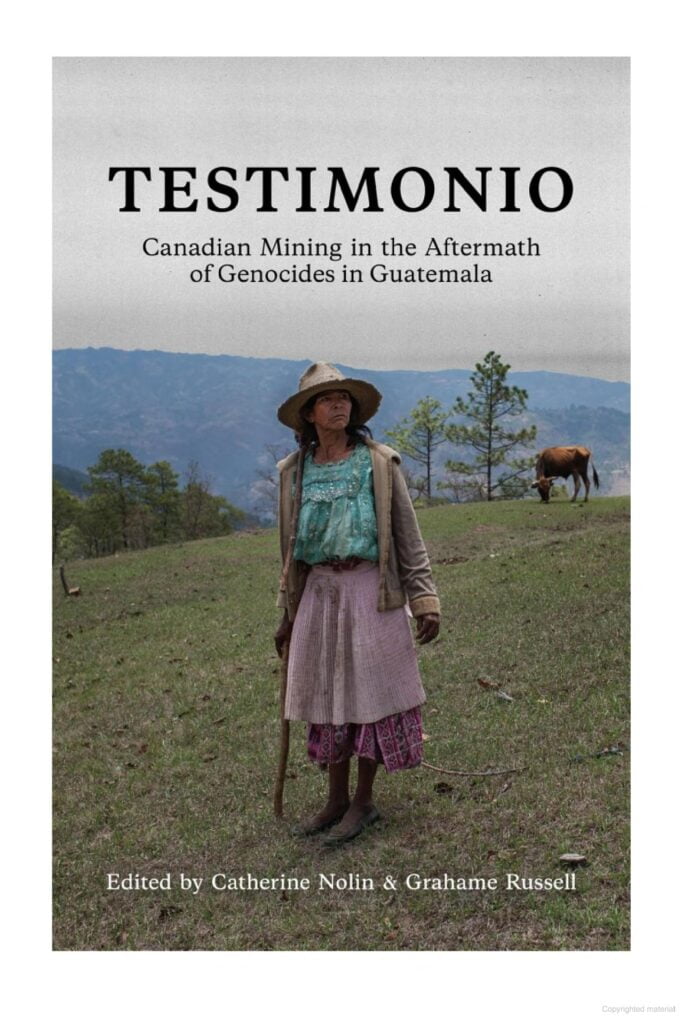 "Testimonios" weaves together the articles and testimonies that tell the stories of horrible crimes committed against Guatemala's Indigenous majority living predominantly in rural areas by Guatemala's powerful and corrupted economic, political and military elites. With the support of the United States, and in conjunction with the economic interests of Canadian mining companies, the World Bank and the Inter-American Development Bank, these institutions and the mining companies that benefited from the repression placed profits before the well being of Guatemala's Indigenous communities, the very places where coveted mineral and other resources are. These elites and their international partners contributed to, participated in, and/or benefitted from the repression 'needed' to get access to the resources.
Daniel Kovalik, Nicaragua: A History of US Intervention and Resistance, Clarity Press (2022)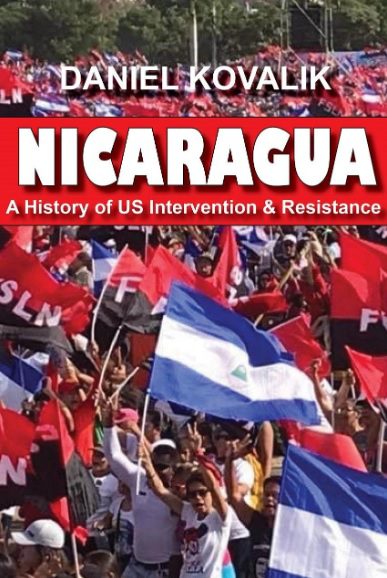 This important book explores the pernicious nature of US engagement with Nicaragua from the mid-19th century to the present in pursuit of control and domination rather than in defense of democracy as it has incessantly claimed. In turn, Nicaraguans have valiantly defended their homeland, preventing the US from ever maintaining its control for long. Nonetheless, destructive US interventions, including its continuing support of generations of Somoza dictators, the10-year CIA-led Contra War in the 1980s, and the neoliberal leaders of the 90s that left Nicaragua continually impoverished and underdeveloped.  Kovalik describes the US's current anti-democratic policies against Niacagua, including worsening destructive sanctions designed to overthrow the Sandinista government.
In this section, ROCLA's newsletter editor has chosen timely and important articles highlighting political, economic and justice stories about various Latin American countries. We select a wide range of current news for you to learn more about the important events in Latin America and the Caribbean, but we undoubtedly didn't locate some too. We welcome our readers' suggestions for articles and research we may have missed. Please send your suggestions with links to the content if it is online, to graniamarcus@rocla.org.
Andrea Castillo and Hamed Aleaziz, "As temporary protected status settlement talks stall, more than 250,000 risk deportation," Los Angeles Times," October 26, 2022.

After more than a year of negotiation, settlement talks between the Biden administration and plaintiffs in a lawsuit over temporary protected status fell through on Tuesday, leaving more than 250,000 people at risk of deportation.
ROCLA MISSION STATEMEMT
Founded in 1973, the Rochester Committee on Latin America (ROCLA) seeks to build bridges between the Rochester, New York community and the people of Latin America. Through its speakers, films, newsletters, and urgent actions, ROCLA educates residents about the culture, economics and politics of the countries of Central and South America, Mexico and the Caribbean, and the ways U.S. policies impact the lives of their people. ROCLA also supports directly affected groups and solidarity organizations that are fighting for justice and human rights in the global south and the United States. ROCLA encourages its members and the Rochester community to advocate for U.S. policies that support human rights and reverse the often-oppressive history of U.S. involvement in Latin America. ROCLA stands with Latin American diaspora communities and ally organizations in the United States in advocating for farmworker rights, a fair and humane immigration system, and racial justice.
Steering Committee: Marilyn Anderson, Kathy Goforth, Grania Marcus, Arnie Matlin, Richard Rosen, Vic Vinkey, Tom Ward, Wesley Costa de Moraes. Emeritus: Gail Mott, Bob Kaiser
Website: Maryann Reissig; Editor: Grania Marcus