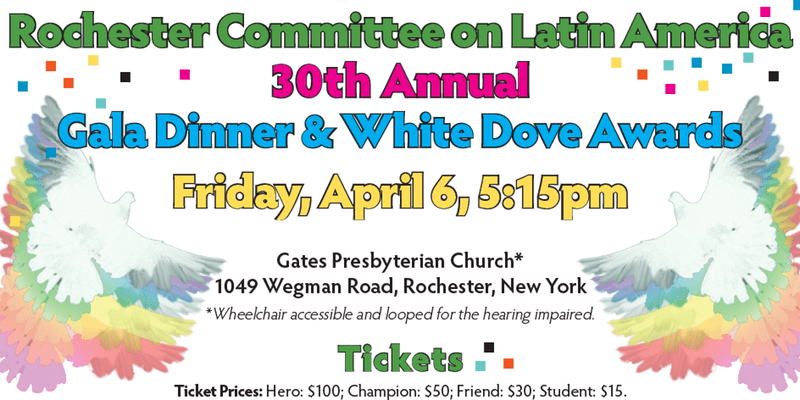 ROCLA's 2018 International White Dove Award will honor Dr. M. Brinton Lykes, Co-Director of the Center for Human Rights and International Justice at Boston College, for her decades of work documenting the consequences of gross human rights violations and developing transformative strategies for justice and healing alongside their victims, particularly with women who have suffered gender and racial violence.
The Alianza Agricola Farmworker Association and University of Rochester DREAMers will share the 2018 Local White Dove Award for their extraordinary work organizing directly affected farmworkers and students and raising the public profile of their struggles and demands.
Use Eventbright to pay online. If you'd prefer to pay at the door please contact Kathy Goforth at 585-467-4091 or kathy.goforth@rochester.rr.com.
Other Ways To Help
FaceBook event page to share with friends: https://www.facebook.com/events/1269266326508582/
To buy an ad: Arnie Matlin, ahmatlingvcp@igc.org
To donate an auction item: Karleen West, karleen.rocla@gmail.com
To provide a dessert: Gail Mott, gailmott14619@gmail.com  (585) 464-0878
To volunteer to help: Kathy Goforth, kathy.goforth@rochester.rr.com  (585) 467-4091