Sowing Seeds of Peace: Inside Colombia's Peace-Building Initiatives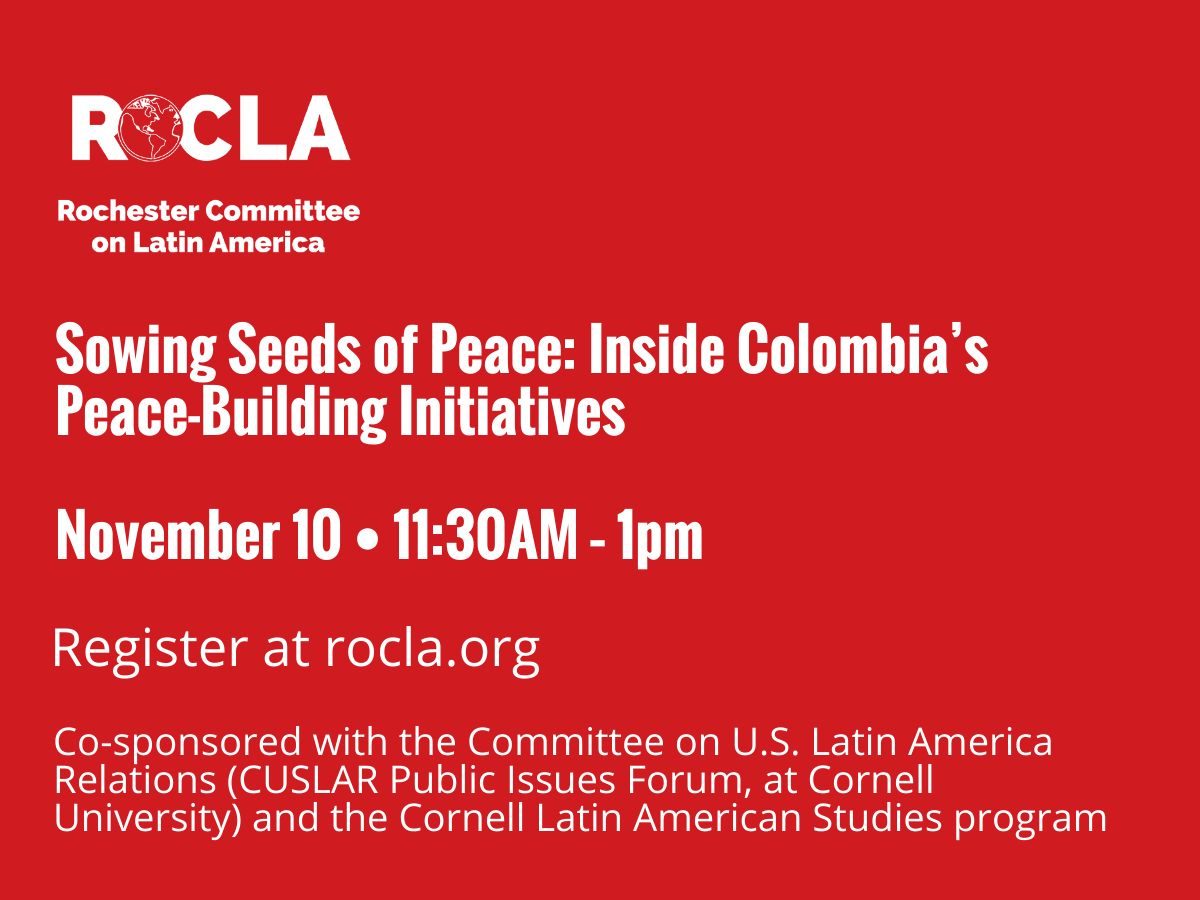 ROCLA is co-sponsoring this event with the Committee on U.S. Latin America Relations (CUSLAR Public Issues Forum, at Cornell University) and the Cornell Latin American Studies program.
Tuesday, November 10, 2020, 11:30 AM to 1 PM ET – "Sowing Seeds of Peace: Inside Colombia's Peace-Building Initiatives."
Event in Spanish with interpretation into English
Register for the online event to receive the Zoom link
The Committee on U.S. Latin American Relations (CUSLAR), in partnership with the Cornell Latin American Studies Program and the Judith Reppy Institute for Peace and Conflict Studies, is sponsoring an event highlighting the role of community initiatives in constructing peace in Colombia. Our guests from Sembrandopaz, Andres Ruiz and Lillian Hall '84, will speak to the challenges of grassroots peace-building with a human rights framework in post-Civil War Colombia. A large part of their work includes a focus on sustainability and agro-ecological farming practices.
Speakers
Andres Ruiz is a community leader in Sucre, Colombia. He has worked with Sembrandopaz for more than 20 years and has served as the leader of the victims division for more than 9 years, and has worked on the forefront of the group's various reconciliation projects. He has also worked on the part of the Municipal government of Coloso, Colombia in the Familias en Acción (Families in action) as well as the Colombia Mejor (A Better Colombia) initiatives.
Lillian Hall '84 is an agronomist by profession and currently serves as the international relations coordinator and manager for Sembrandopaz at the Villa Bárbara farm in Sincelejo, Colombia. She is an alumna of Cornell University (1984) and lived for nearly 30 years in Nicaragua, where she developed her expertise in international public relations as director of a small NGO in Nicaragua and served as a leader of delegations for understanding and solidarity.
Co-sponsored by the Rochester Committee on Latin America (ROCLA) and the Latin American Solidarity Committee of Buffalo (LASC)